Sheet Pan Chicken Fajitas
Serene Herrera | House of Yumm
Sheet Pan Chicken Fajitas. An easy to put together dinner that is full of flavor and only uses ONE PAN! Juicy chicken seasoned with a homemade fajita seasoning is mixed with brightly colored bell peppers and onion for a classic tex mex meal. The entire family will love this one!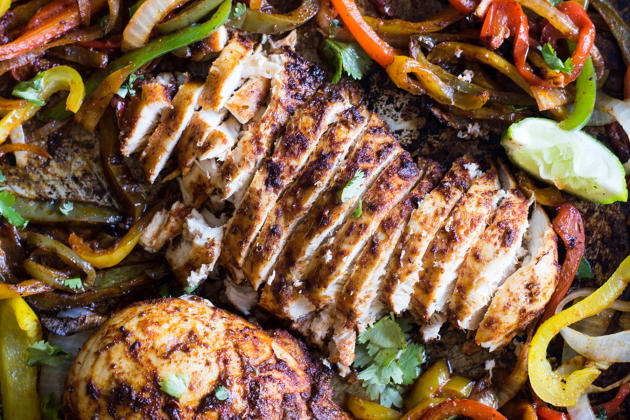 This sheet pan chicken fajita dinner is a definite win for an easy dinner. Sheet pan dinners are everywhere right now. Have you noticed? And I for one am a definite fan of easy dinner recipes. Especially when they're super easy to prep, leave practically no dishes, and taste like something I would order from a restaurant.
These sheet pan chicken fajitas are quick and easy to toss together. The most time-consuming part is slicing the bell peppers and onion. Just coat everything in a little olive oil and the homemade fajita seasoning, which is included in the recipe below.
The chicken breasts go on the pan whole, just take a few moments to slice them into skinny strips after they're cooked. This helps the chicken always come out perfectly juicy and flavorful. A squeeze of lime juice puts this dish over the top!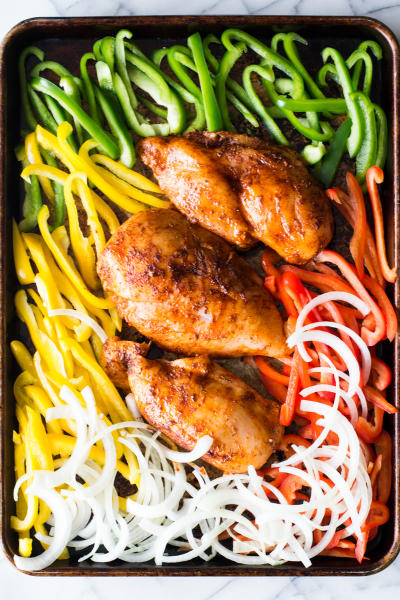 One of my favorite things in the world is fresh flour tortillas. But if you don't have fresh tortillas, I love getting the thicker flour tortillas you can find at any market. Toss them onto the burner on your stove briefly on each side to get them nice and warm, and slightly charred.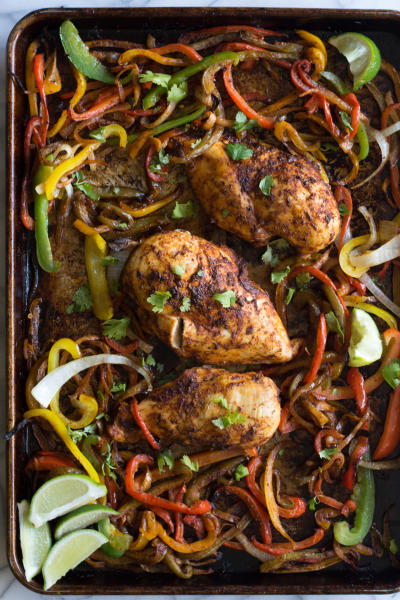 Sadly, I currently have an electric stove with the glass top, which makes it difficult to do that. So, I have a griddle I place on my stove and just heat the tortillas on that for about 30 seconds on each side. It's really quick, and still gives that charred look and taste.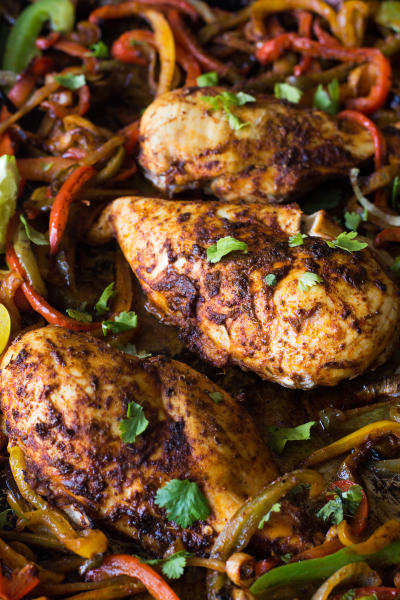 There's really no other toppings needed for these chicken fajitas. Maybe a small dollop of sour cream and a sprinkling of cilantro. Other than that, this meal is perfect. 
Ingredients
3 boneless skinless chicken breasts
1 red bell pepper, sliced into strips
1 yellow bell pepper, sliced into strips
1 green bell pepper, sliced into strips
1/2 yellow onion, sliced into strips
1 tablespoon extra virgin olive oil
2 teaspoons chili powder
1 teaspoon paprika
1 1/2 teaspoons cumin
1/2 teaspoon oregano
1/2 teaspoon salt
1 lime
fresh cilantro, optional
Directions
Preheat oven to 400°F. Spray a large baking sheet with cooking spray and set aside.
In a small bowl add all the seasonings, chili powder, paprika, cumin, oregano, and salt. Stir to combine.
Place the chicken breasts in a large mixing bowl or large sealable plastic bag. Pour half of the olive oil over the chicken and sprinkle about 1/3 of the fajita seasoning mix.
Stir to coat the chicken in the seasoning, or seal the bag and shake to coat. Place the chicken on the baking sheet.
Add the sliced peppers and onion to the same bowl or bag and repeat with the remaining olive oil and fajita seasoning. Spread on the baking sheet in an even layer.
Bake for about 30-35 minutes or until chicken is fully cooked.
Allow the chicken to rest for about 5 minutes then slice into strips. Squeeze lime juice over the chicken and peppers. Garnish with cilantro if desired.
Heat tortillas, either on burners on stove or in microwave. Heating over the burner will give your tortillas a charred appearance and flavor.
Serve the chicken fajitas warm. Enjoy! 
Recommended
Tags: Tex Mex, Easy Dinners, One Pot Meals, Family Meals and Snacks, Dinners, Chicken, Peppers, Onions, Tacos, Roasted
Sign Up for Weekly Personalized Recipes. FREE!