What is Suji in English?
The Editors at Food Fanatic | Food Fanatic

Just what is suji in English? Find out more about this ingredient, including how to use it in your recipes.
If you want to try your hand at Indian cuisine, you may find recipes that call for suji or rawa. Suji in English is granulated wheat, better known as semolina. You may also see it spelt as sooji, but both suji and sooji are Hindi words. You will commonly find that the word suji is used in North India, whereas rawa is used in South India.
Suji is a very versatile ingredient - here are two great ways to use it.
Upma
A traditional breakfast dish in India is Upma, which originated in South India. It is almost like a thick oatmeal, but with a savory twist to it. You can get very creative with this and add in flavors you like, so you can tweak it to match your preferences. 
1 cup suji 
2 tablespoons vegetable oil
3/4 teaspoon mustard seeds
5-6 curry leaves
2 green chillis, halved
1-inch piece of ginger, grated
2 onions, diced
2 tomatoes, diced
2 cups hot water
Pinch of turmeric
Salt 
Juice of 1/2 lime 
1/4 cup chopped coriander (garnish)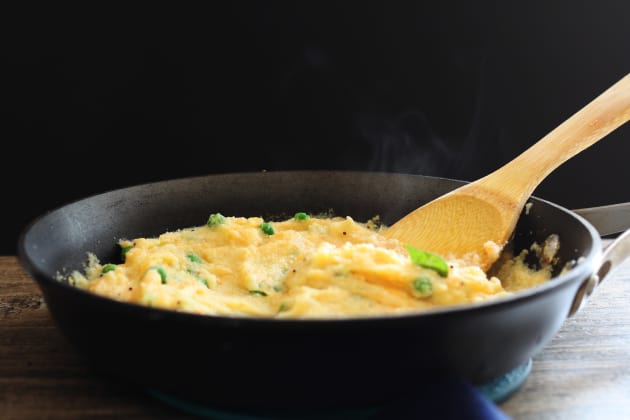 1. Heat a skillet over medium heat and lightly heat the suji, without letting it brown. Transfer to a dish and set aside.
2. Pour the oil into the pan and add the chillis, mustard seeds and curry leaves, gently stirring to release their flavors. Add the ginger and stir, cooking for a minute.
3. Add the onion and cook for a few minutes until soft.
4. Add the tomatoes and cook until soft. 
5. Add the note water, turmeric and salt to taste. Bring to a boil and add the suji, constantly stirring to stop any clumps forming. 
6. Simmer and cook until it has a thick consistency. Remove the heat. 
7. Squeeze lime over the Upma and mix, garnish with the coriander.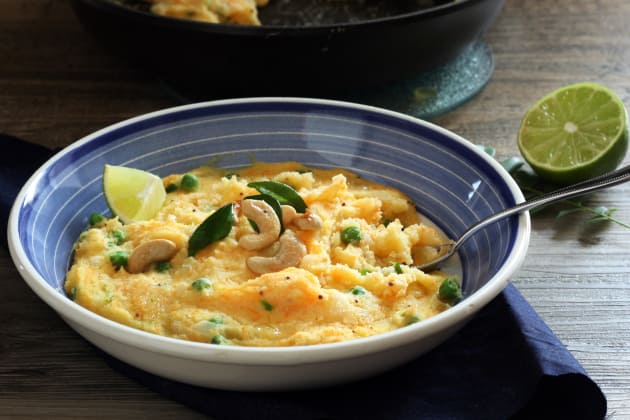 Rava Laddoo
Rava Laddoo is a highly popular sweet dish in India which is quick and easy to make, but tastes wonderful.

500 grams suji 

6 tablespoons ghee

1 1/2 cups sugar

2 cups milk 

3/4 cups mix cashews (chopped) and raisins 

1. Place a deep pan over medium heat and add in the ghee once hot. Melt the ghee and add in the cashews and raisins, frying for a couple of minutes. Remove with a slotted spoon and drain them on a paper towel.

2. Add suji to the ghee and mix well, stirring it often until it begins to show a light golden color and you can smell it cooking.

3. Add in the sugar and mix well to combine.

4. Gently and slowly add in the milk, stirring constantly to stop any lumps from forming. Cook until thickened and it is coming away from the sides of the pan.

5. Add the cashews and raisins back in and mix well. Remove the heat and cool until it can be handled.

6. Take a little of the mixture at a time and roll into balls the size of limes (Laddoos), ensuring they are smooth and firm. Transfer to a greased dish and leave to sit for about 30 minutes to firm up. 

7. You can now enjoy them or store them in an airtight container for up to a week.

Tags: Indian, Breakfasts, Desserts